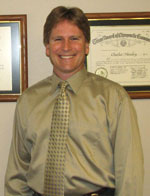 Dr. Charles Hensley is a licensed Chiropractor serving the Austin community Dr. Hensley uses a "whole person approach". This approach to wellness means looking for underlying causes of any disturbance or disruption (which may or may not be causing symptoms at the time) and make whatever interventions and lifestyle adjustments that would optimize the conditions for normal function. Using this unique approach, Dr. Hensley is able to help you to accelerate and/or maintain your journey to good health.  Dr. Hensley received his doctorate of Chiropractic at Texas Chiropractic College and became a licensed member of the Texas Chiropractic Association in 1990. Dr. Hensley also received a Bachelor's Degree in both Human and General Biology from T.C.C. and Southwest Texas State University, respectively.  Some of his many hours of specialized training include nutrition, sports injuries and rehabilitation in all areas.  Although Dr. Hensley's practice is over twenty years old, he firmly believes in constant continuing education in the field of natural medicine.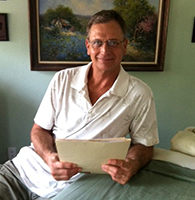 Larry Deffebrio: Massage Therapist, 
LMT
I have been a licensed professional in the Austin healthcare field since 1991, in private practice working with medical doctors, chiropractors, nurses, physical therapists, fitness trainers and a variety of healthcare and educational providers, hospitals, health spas, clinics, corporations and special events.
My education includes but is not limited to:
Southwest Texas State University
United States Air force Medical Center
Austin School of Massage Therapy
Austin School of Massage MTI- Instructor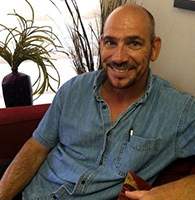 Glen Gabriel: Massage Therapist, LMT
'Hello, I am Glen Gabriel the massage therapist, also known as 'Gabe'.
First, I want to say its an honor and a pleasure to work here at Hensley Wellness Center. The folks here are incredible and have the same mindset as I, and that is to lend a hand 'to help bring healing to the community one person at a time.'
I was inspired to become a licensed massage therapist (LMT) back in 1991 and graduated from massage school in 1993 and have never looked back! However I started working in the health profession in 1982 as a physical therapy aide and since then I have educated and trained to become a physical therapist tech. I had the experience to work in various therapeutic professions in conjunction with working as an LMT as well. Subsequently, I have found my gift and passion as a healing arts practitioner.
I focus a large amount of my massage techniques (but by no means solely) in Myofascial Release (MFR). MFR is used to treat somatic dysfunction. It's purpose is to relax contracted muscles, increase circulation and lymphatic drainage as well as stimulate the 'stretch reflex' of muscles and connective tissue (fascia, for example)
It has been my experience personally and professionally that this is a very effective technique to help those who are subject to being in very 'static' positions for long periods of time, due to their working conditions. (You know who you are- office personnel, computer support, etc…) After long, stressful work days your body takes a beating! Some other massage disciplines I like to implement are postural changing in nature such as deep tissue massage, body movement techniques, and various other therapeutic techniques as well. All this to say the objective is to get a person moving and feeling better with little or no pain which ultimately makes for a healthier and happier you!'
Here for your best Health,
Gabe